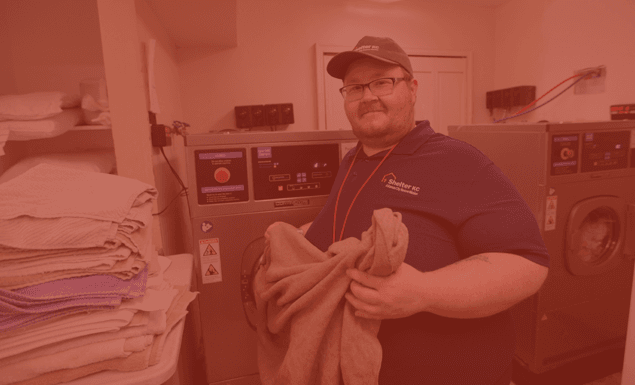 THE CHILLING TEMPERATURES in December 2018 and January 2019 tested the strength of our Center staff as they provided warm, safe shelter for over-capacity crowds night after night!
"We put mats on the floors of the chapel and hallways," says Shelter Manager Larry Hansen. "Staff members working double shifts slept at the Mission overnight so they could be available whenever needed."
Was it worth it? Our homeless guests were deeply grateful to escape from the dangerously cold weather. "Staying out there isn't a good option," says Al, who spent three years on the streets before joining KCRM's men recovery program.
"You could die out there."
We are grateful, too! "When local news stations told Kansas Citians about the crowds and our immediate need for things like blankets, food, soap and shampoo, people really came through," says Julie Larocco, KCRM's development officer.
"Many gave cash so we could meet the most desperate needs immediately. Day after day, folks dropped off or shipped donations — it was wonderful to see the response!"
After a cold front, we need help restocking our shelves and our general fund.
"Because KCRM housed and fed substantially more homeless men than usual for several weeks, we depleted our general fund paying more than 100 hours in additional labor costs to keep the shelter running," notes Executive Director Joe Colaizzi.
HELP REPLENISH our general fund, please make a gift. Thank you and God bless you.