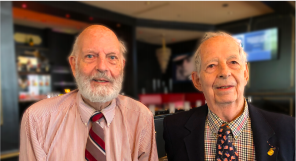 DENNY AND CARL BOLTE are close and active brothers who, now in their mid-90s, are deeply committed to their community ... including those surviving on the streets. Both rarely miss the weekly downtown Rotary meeting, where they learn more about local organizations and socialize with other community- minded Kansas Citians.
That's where they met KCRM Executive Director Joe Colaizzi several years ago.
"We admire what KCRM does to help people get back on their feet, helping them find work, putting marriages back together," says Carl. "We like that the word 'RESCUE' is in your name, and that's what you do for many lives."
Each year, the brothers support our ministries to the homeless through gifts of stock directly transferred to KCRM. They both say, "Giving stock is a convenient way to give and makes sense with our financial strategy."
"We urge others to join us to support this selfless and dedicated organization," Carl says. "It's a ministry in the heart of America that lives up to its name."
Get more information about planned giving, including gifts of stock, to support Shelter KC: A Kansas City Rescue Mission!