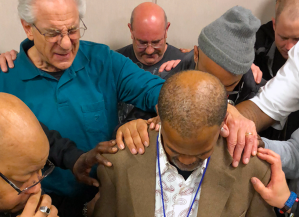 At Shelter KC we see God's vision come to light every day in big and small ways. This is the story of Eugene and God's sign to him through a connection with Shelter KC.
"I WAS WALKING UP CHERRY STREET to get to Truman Road so I could get on the bus," Eugene recalls. "I had two handguns and I was going to kill everyone in that house as soon as I got there. I had it all planned out."
Then a sign attached to a chainlink fence caught his eye. "The words on the sign said FREEDOM from the past, HOPE for the future, and it just stopped me in my tracks. I started to cry uncontrollably. There was no one else out there, just me and that sign.
Then something came to my mind, and it sounded just like the voice of my wife who had died a year earlier: You gotta get rid of those guns, and you gotta come back here and get help. And that's exactly what I did."
Help support Shelter KC so more men can find our emergency homeless shelter.