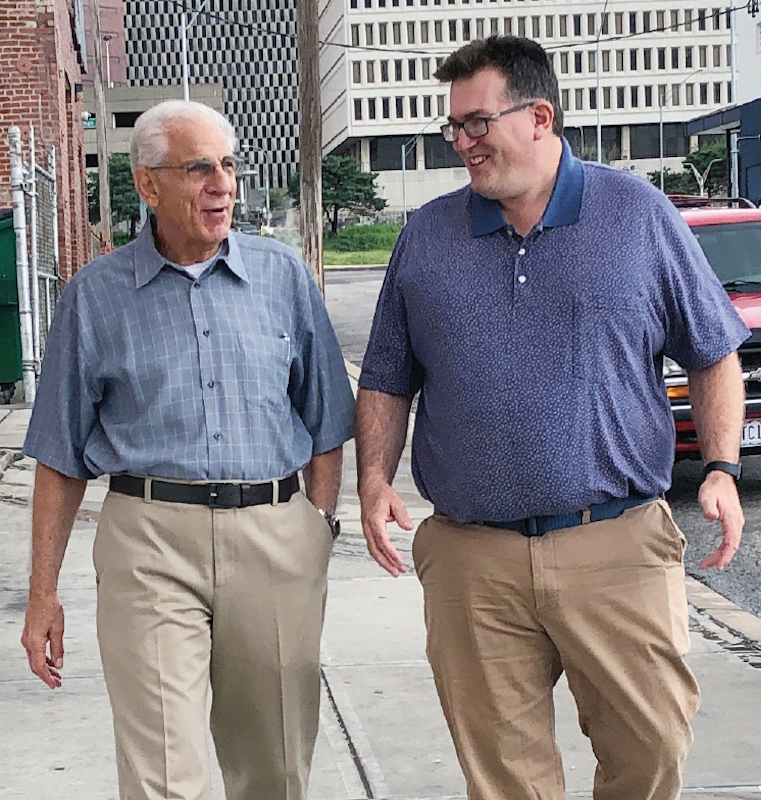 An important message from Rev. Joe Colaizzi
As you may well imagine, it won't be easy for me to say goodbye a few months from now when I step down as Executive Director of Shelter KC. But getting to know Eric Burger is making this transition much easier. I'd like you to get to know him, too. It's my honor to introduce Eric to you as the Executive Director-Elect of Shelter KC.
Eric is smart, and he has the kind of experience necessary to lead Shelter KC into the next decade. His qualifications are robust, and you can read more about him below. But I want to tell you something about Eric that a resumé wouldn't reveal.
On a hot midday recently, some of the staff at the Shelter KC Men's Center were taking a walk and encountered a young man who was confused, dirty and afraid. He called out to the group for directions to the Shelter, not knowing they worked there. Eric, who was part of the group, crossed the street to the man and checked to see if he was in distress. Eric put his arm around the man and asked if he could pray for him. Then, Eric walked with the man to the Shelter and made sure he was comfortable and hydrated.
To people who've spent their lives working with the poor and homeless, that little moment revealed much. The staff saw Eric as someone who wouldn't overlook someone in need, who wasn't ashamed of his faith and who wasn't afraid to get a little dirty to serve someone. Jesus taught that whoever wants to be great among you must be the servant of all.
As I prepare to pass the torch to Eric, it gives me peace to know he not only has a mind to lead, but he has a heart to serve. Welcome, Eric!
About Eric!
 Q. What other rescue missions have you worked with?
A lot! I started working at Union Gospel Mission in Seattle, Washington in 1979 and served in a lot of areas — from the youth to transient services — which gave me a lot of helpful experience over the years! From there, I led youth at Atlantic City Rescue Mission and at Union Mission in Charleston, West Virginia. I began to lead missions as an Associate Director at Huntington City Mission in West Virginia and then served as Executive Director at Great Falls Rescue Mission in Montana and Hiway 80 Rescue Mission in Longview Texas before coming here to Shelter KC.
Q. What got you into rescue mission work?
My parents were in rescue mission work. As a child, we lived in an apartment in a mission. I grew up around men in recovery programs (many who were like uncles to me) and attended the mission's urban youth camps. As a high school and college student, I worked with children's camps and homeless emergency shelters. During this time, I felt led to give my life to homeless ministry. I love seeing the transformation of hurting people as they discover a new life with Jesus.
Q. What are your plans for Shelter KC?
I am committed to lead Shelter KC to reach out to the homeless in the name of Jesus, to help build a bridge between hurting people and area churches, and encourage our community to support this vital work with their time and funds. I hope to continue the legacy this ministry has forged over the last 70 years, and help Shelter KC stay strong and effective for many years to come.
--
Meet all of Shelter KC's leadership team, and, help us shelter KC, donate today!