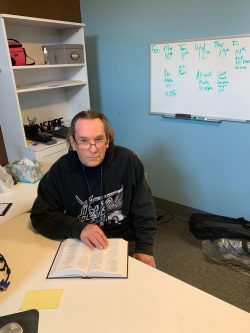 In the first 12 years of Robin's life, he was abandoned by his mother and father. He was abused and terrorized by his alcoholic uncle. Then his aunt, the one person who actually cared about him, passed away. Sadly, his suffering was just beginning...
After his aunt died, 12-year-old Robin tried to fill the vacancy in his heart with alcohol and marijuana, which soon became a daily routine. By his teens, he had spiraled into hard drug addiction, which led to a tragedy that would forever change his life. One night, blinded by drugs, Robin shot and killed a friend who was trying to take his car keys.
Wracked with guilt and remorse, Robin remembers being glad when the sheriff came to arrest him. At the young age of 17, he was sentenced to life in prison.
After spending 40 long years behind bars, Robin awoke one day to find out life had taken a very unexpected turn. He was being set free...immediately. A Supreme Court ruling held that mandatory sentences of life without the possibility of parole for juveniles are unconstitutional. So, with $18 in his pocket, no family, and no time to make any plans, Robin walked out of the prison and straight into homelessness.
Unsure what to do or how to start over, Robin turned to alcohol. "I wasn't drinking much, but I realized I was starting to look forward to it every day," he says. "I was without routine or structure. I saw where it was headed."
Robin came to Shelter KC and entered our proven Christian Community of Recovery program, which is made possible through the generosity of friends like you. One night, while reading a short prayer from his homework assignment, he found himself crying out to God for guidance. The next morning, when he knelt to pray, another life- changing moment occurred.
"I felt Jesus behind me with his hand on my shoulder," Robin says. "I knew something miraculous had happened."
Now in the transitional phase of our program, Robin is doing well and looks forward to his new life in Christ. "The whole staff shows me what Christianity really is," he says.
Donate to help us provide love and care to men like Robin!