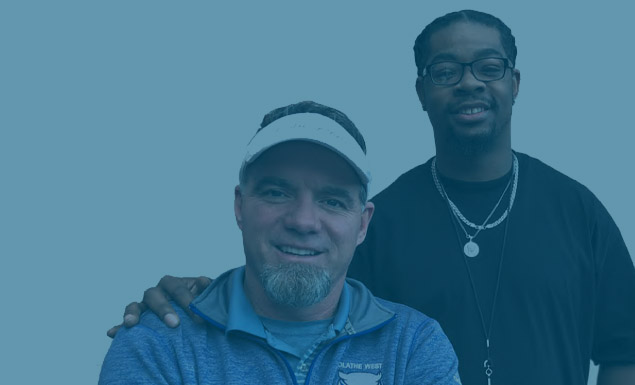 "I WAS STANDING BEHIND THIS BIG GUY, waiting to check out with the cashier and I caught a glimpse of a tattoo on his forearm quoting Psalm 27:1," Rob remembers, "and God said to me, 'Why don't you ask him what that means to him?'"
For Rob Stewart (pictured left), what began as a quick family trip to Lawrence, Kansas, to visit his elderly grandmother, suddenly turned into an unexpected encounter when he stood in line behind Eric at a convenience store. "He was so big, and he didn't seem in a very good mood, so I decided that couldn't have been God I heard,Rob says. But as Eric walked out of the store, Rob knew he had to obey God's voice.
Eric recalls, "I wasn't in a good place [in life]. I had called in sick to work that day but then, out of the blue, something told me to go to the store and cash in this $3 Scratchers ticket I'd had for a week. I thought maybe I'd get a beer, but instead I just cashed it in and left. I was walking across the parking lot to go back home when I heard this guy call out behind me, 'Hey! God wants me to ask you something.'
"I turned to see this man approach me," Eric continues. "He said, 'God wants me to ask you about that tattoo. Are you living that scripture out?' I dropped my head and felt the tears in my eyes. I had to say, 'No, I'm not.'"
THAT DAY, in a convenience store parking lot, Rob — "my perfect stranger" Eric likes to call him — left his comfort zone and prayed for Eric. But he didn't stop there. Rob asked if he could stay in contact with Eric and, over texts and occasional calls, a friendship formed.
As time passed, Eric began to join Rob and his family for church and was often a guest in their home. But Eric, who struggled with addiction, needed more.
After more than two years of a growing friendship, Rob brought Eric to KCRM — a place Rob and his family often volunteer — and five months into KCRM's recovery program, Eric is thriving.
Eric, tall in stature and bigger in heart, can often be found in the library at the Men's Center, with two backpacks bulging with books, journals and his ever-present Bible.
He's a work in progress, but today Eric can finally answer Rob's parking lot question: "Yes, I'm living it out. God is my light and the strength of my life!"
Join us as we shelter KC by giving and volunteering!