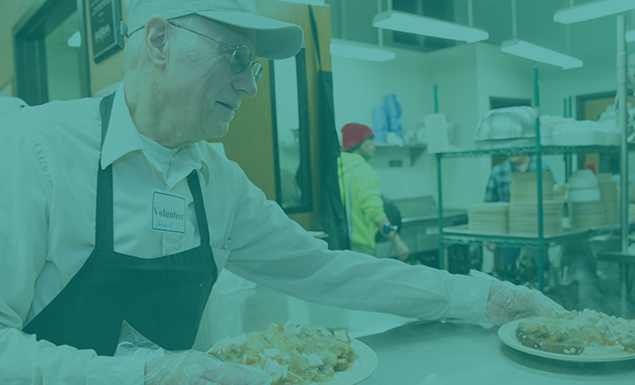 THANKSGIVING is a special time at Shelter KC. Each year, our staff and volunteers prepare to serve and love homeless men and women who come through our doors, as well as those in the Kansas City community.
This Thanksgiving, people aren't only coming to US, but we are going to THEM!
At the mission
At our Men's Center and Women's Center, we will serve around 240 nutritious, well-balanced meals each day. Out on the street, we have earned the reputation as the place that serves filling portions of delicious food, where every guest is treated with dignity, respect and love.
Throughout the holidays, we expect a full house every single night at the Men's Center, and in our dining rooms no one will be forgotten, no one will go hungry.
HELP US FEED EACH GUEST! 
To our neighbors' doors
Kansas City's homeless and hungry will come to us, but 1,750 isolated and poverty-stricken men, women and children will receive delicious holiday feasts delivered right to their doors by our volunteers!
This includes 500 single-serving meals through our Turkey Hotline.
And, it means 250 food boxes through Operation Family Feast, each with enough food for an abundant Thanksgiving feast for a family of five with plenty of leftovers for other meals
We are excited to join many compassionate Kansas Citians to provide tables of grace, hope and laughter to our neighbors in need, both here and throughout the community.
SEE WHAT WE NEED FOR THE 250 FOOD BOXES
SEE WHAT WE NEED FOR TURKEY HOTLINE/CONVOY
VOLUNTEER TO DELIVER MEALS WITH OUR TURKEY HOTLINE THANKSGIVING MORNING
SEARCH FOR VOLUNTEER OPPORTUNITIES
To contribute to these efforts, donate now.